ANNOUNCING THE BIRTH ON MARCH 1
SIX PUPPIES - ALL BLACK WITH WHITE MARKINGS
3 MALES AND 3 FEMALES
SIX WEEK PICS ARE ON PUPPY PAGES!!!!!!
We have one female still available

TWILIGHTS BARONESS KAIR BEAR X KELSO'S DARKSIDE RENDEZVOUS "OSIRIS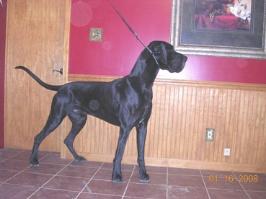 Osiris is fully OFA'd for hips, elbows, pettellia, thyroid, heart
(echo), Von Wildebrands and CERF. .FOR MORE
INFORMATION ON OSIRIS, PLEASE VISIT
WWW.KELSOSGR8DANESDOGTRAINING.COM

MOM AND PUPPIES AT 36 HOURS

MOM AND PUPS AT 2 WEEKS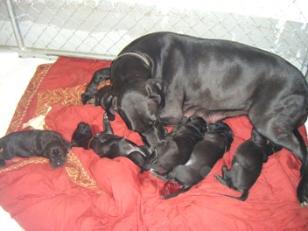 Puppy Play at 3 weeks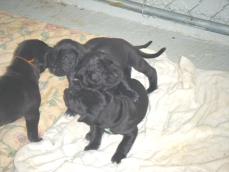 Click the puppy picture
to go to the puppy's
page

BLACK FEMALE - WHITE MARKINGS
PINK COLLAR -
Sold
"Zena"

BLACK MALE with white flashes -
GREEN COLLAR
Sold
"Hagrid"


BLACK MALE - SMALL WHITE SPOT
YELLOW COLLAR
Sold
"Cross"

BLACK FEMALE -WHITE MARKINGS
PURPLE COLLAR
Sold
"Pepper"


BLACK MALE, WHITE MARKINGS
BLUE COLLAR
Sold
"Alex"

BLACK FEMALE - SMALL WHITE
BLAZE - ORANGE COLLAR Sold
"Hayley"

We believe that a great dane is a member of a family. To this end, we screen all potential purchasers of our puppies to assure
they are going to an appropriate home. All puppies are sold on contract.

We provide full or limited AKC registration on all of our puppies. Puppies purchased as a companion must be spay/neutered.

Our contract will ask that any home which, for what ever reason, can not keep our puppies, They MUST be returned to us.

Our puppies come with a two year health guarantee against any genetic health problems.

We do have a waiting list. If interested in being added to our list for possible placement of one of these puppies, please
E-mail it to this site or call 717-873-3626.

If interested, please call to be added to the reservation list

NOTICE: WE DO NOT CROP THE ENTIRE LITTER . The cost of cropping is $275.00.